General Event
Emerging Technologies: BC's AI Showcase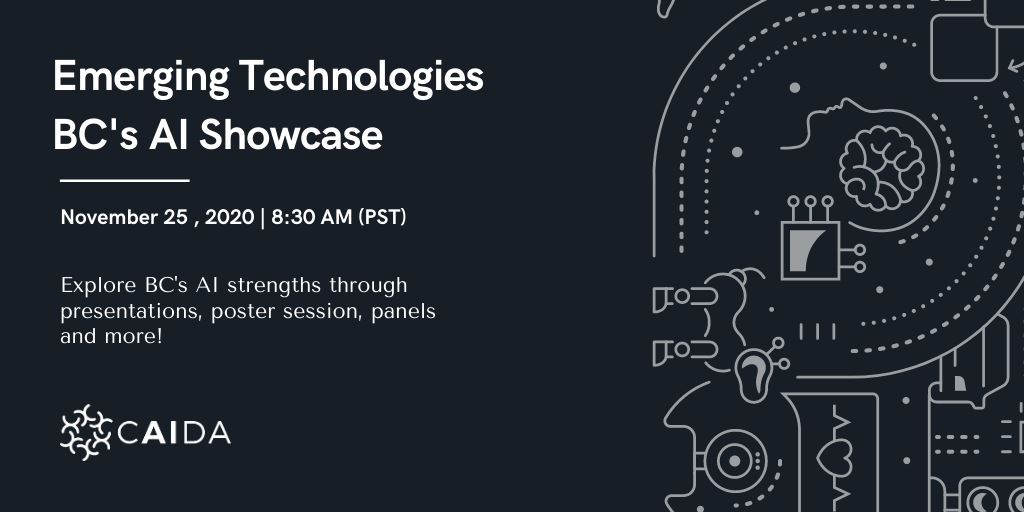 DATE:

Wed, November 25, 2020 - 8:30 am
LOCATION:

Please register to receive the virtual platform links
DETAILS
UBC's Centre for Artificial Intelligence Decision-making and Action (CAIDA) invites you to the conference "Emerging Technologies: BC's AI Showcase".

Please register for this event here.
 
The conference will explore emerging and disruptive technologies and connect participants with BC's leading thought leaders, researchers, and industry experts in the field of AI. Discussions will focus on the development and advancement of fundamental AI research in BC, as well as its applications in health and manufacturing.
The day will include:
- Three concurrent virtual presentations in Health, Manufacturing, and Fundamental Science
- A Panel Discussion with our keynote speakers
- A Poster Session with BC's leading AI graduate students
- and Networking with BC's local AI community
Join us for a day of multi-disciplinary exploration and networking with BC's leading AI experts. 
Agenda (subject to change):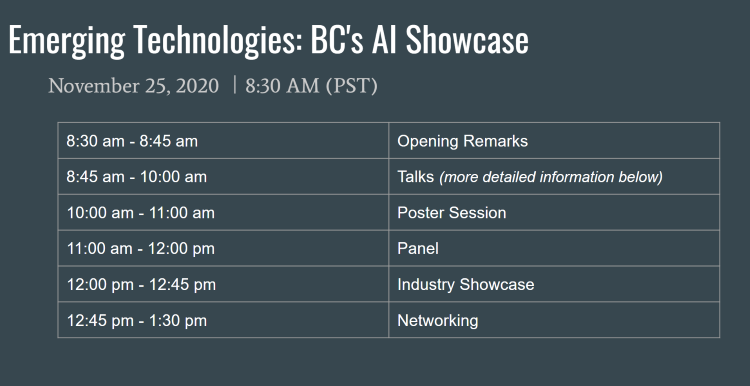 This event will begin promptly.  Please give yourself extra time before the event begins to familiarize yourself with the platform and move your avatar to the correct room.
Please register for this event here.
Panel 
"Deploying AI in BC: Challenges and Opportunities"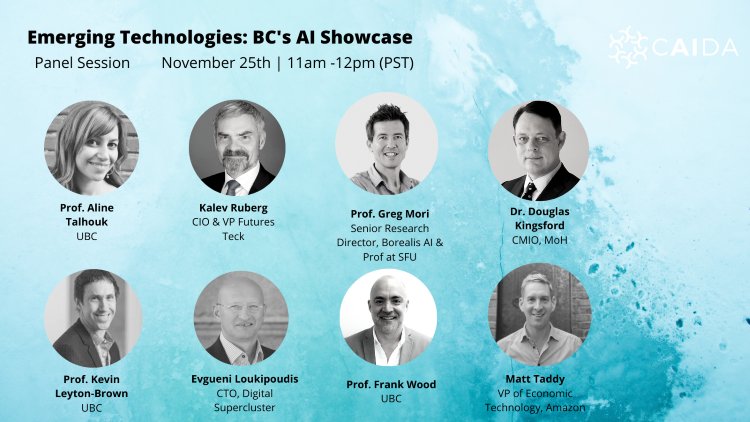 Industry Showcase:
The following companies will have a virtual booth at the event during the Industry Showcase session (12:00 - 12:45 pm PT)
 
AInBC
Amazon - Cloud Innovation Centre
BC Tech Association
CDL West
Life Sciences BC
MetaOptima
Minerva Intelligence
Motion Metrics
Prenuvo
Synaptitude Brain Health
Ziva Dynamics
1Qbit
Please contact organizers for any questions or concerns.
Your personal information is collected by UBC under the authority of section 26(c) of the Freedom of Information and Protection of Privacy Act (FIPPA). This information will only be used to manage your attendance at this event. Questions about the collection of this information may be directed to research.info@ubc.ca.
Please note that the EventBrite ticketing system stores its data in the US. You can read EventBrite's privacy policy here: https://www.eventbrite.ca/support/articles/en_US/Troubleshooting/eventbrite-privacy-policy?lg=en_CA
Registrants will be sent Zoom and other platform links closer to the event date. Please watch your contact email for that information.
Please register for this event here.