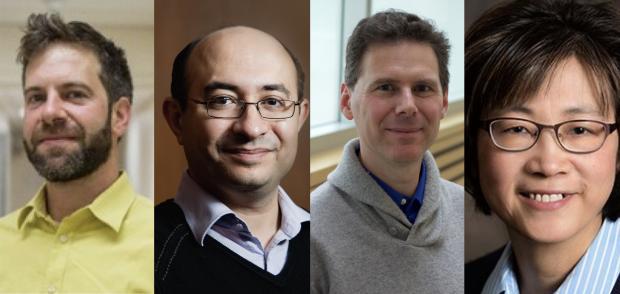 Photo credit: http://www.ece.ubc.ca/news/202005/ubc-researchers-design-ultrasound-scanner-network-covid-19
UBC researchers, and CAIDA members, Dr. Robert Rohling, Dr. Purang Abolmaesumi, and Dr. Teresa Tsang, alongside Dr. Oron Frenkel, have integrated portable, handheld ultrasounds scanners with artificial intelligence (AI) to accelerate COVID-19 diagnosis.  
Their project, Intelligent Network Point of Care Ultrasound (IN-PoCUS), has been funded by B.C.'s Digital Technology Supercluster, and it is currently being focused towards rural communities in B.C., with 50 units being sent to rural acute care sites and 30 units being sent to urban acute care sites. 
The system uses a network of lung images and an AI algorithm to detect changes in the lungs associated with COVID-19.  This not only allows diagnosis to occur almost instantly and for vulnerable cases to be identified early, but the project also has the potential to be applied to areas beyond COVID-19 in the future.  To learn more about this exciting project, click here.