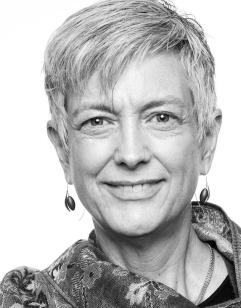 Dr. Karon MacLean has been appointed as a Canada Research Chair (CRC) in Interactive Human Systems Design, Tier 1 (senior) from the Canada Research Chairs program during the 2022 CRC appointments.
Dr. Karon MacLean is a professor in the UBC Computer Science department and a CAIDA member.  She is the founding director of an NSERC CREATE grad training program (2017) and visionary of the Designing for People (DFP) research cluster.  She previously served three years as the Faculty of Science's Special Advisor for Knowledge Mobilization, and as Associate Director of the Institute for Computing, Information and Cognitive Systems (ICICS).  Dr. MacLean's research areas include gesture recognition, activity identification, and dynamic emotion modeling; more specifically "she is an international pioneer in haptics (touch), human-computer and human-robot interaction (HCI and HRI), and theory and design practices to support them" (Thompson).  Dr. Karon MacLean is more than deserving of this honour, a sentiment which was best expressed by Chen Greif, the former computer science department head, when he said "She ticks every possible box for a senior CRC, and her research is innovative and interdisciplinary."
"The Canada Research Chairs Program (CRCP) stands at the centre of a national strategy to make Canada one of the world's top countries in research and development. It invests approximately $311 million per year to attract and retain a diverse cadre of world-class researchers, to reinforce academic research and training excellence in Canadian postsecondary institutions.
In 2000, the Government of Canada created a permanent program to establish 2,285 research professorships—Canada Research Chairs—in eligible degree-granting institutions across the country.
Chairholders aim to achieve research excellence in engineering and the natural sciences, health sciences, humanities, and social sciences. They improve our depth of knowledge and quality of life, strengthen Canada's international competitiveness, and help train the next generation of highly skilled people through student supervision, teaching, and the coordination of other researchers' work."
To learn more about Dr. Karon MacLean's CRC appointment and her recent work check out this amazing article posted by UBC's Computer Science Department. You can read UBC's announcement here, and you can learn about the most recent CRC renewals and new appointments from the Government of Canada's official press release.
 
Congratulations again to Dr. Karon MacLean and all the new CRC Chairs!