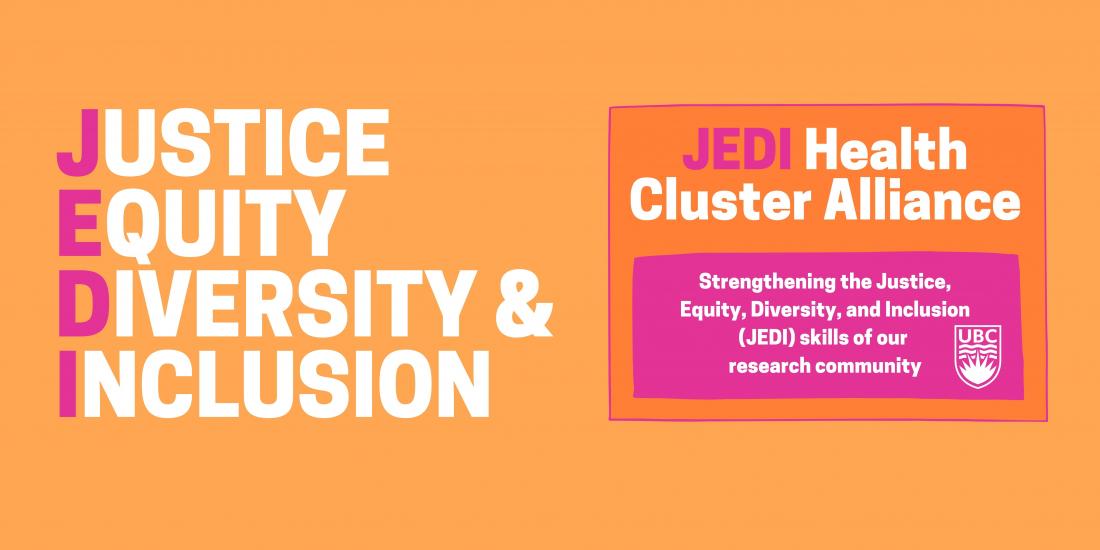 The Justice, Equity, Diversity and Inclusion (JEDI) Health Cluster Alliance is comprised of 8 UBC Research Clusters who contribute to health research. The goal of this alliance is to learn about inequity and oppression in a post-secondary context, to investigate the strategies that the University of British Columbia and other institutions are using to combat various types of oppression, and to create change, starting within our Clusters. As such, we've partnered with UBC's Equity & Inclusion Office to create a series of events and workshops that address various forms of inequalities, and that encourage thoughtful action. Although the UBC community will be a focal point of conversation for these events, the skills and lessons conveyed within will translate to communities beyond UBC. We welcome anyone interested in learning how to foster an inclusive and respectful working and research environment to attend. 
CAIDA is thrilled to be a core member of the JEDI Health Cluster Alliance. This October, CAIDA is co-hosting "Building an Ethical Algorithmic World: A 3-Part Series" with BMI AI, DFP, DASH, Brain Circuits, and the UW Computational Neuroscience Centre.
Learn More about the Clusters Involved
Core Partners:
Affiliate Partners:
---
Previous Events:
Speak Up Community Building Workshop 
October 6, 2021: 12:00pm - 1:00pm PT
Interested to learn how to build an inclusive and respectful working environment? Curious about what to say when somebody makes an inappropriate comment? Want to know how to handle situations that are embarrassing at work? In this workshop, attendees will learn about what makes a respectful community. This workshop builds on an intersectional approach to identities and experiences that shape how people show up at work, and explores challenges to inclusion by focusing on microaggressions and the impact they can have on workplace culture. Participants will have the opportunity learn how to challenge these instances as an Active Bystander/Upstander. All of these skills are important for fostering a respectful inclusive community.
Building an Ethical Algorithmic World: A 3-Part Series 
Coded Bias Screening: October 26th - November 2nd: watch anytime during these dates
Q&A with Coded Bias Director Shalini Kantayya: November 2, 2021: 5:00pm PT
Algorithmic Bias Panel Discussion: November 4, 2021: 12:00pm PT
Interested in the ethics of algorithms? Concerned with the current biases within algorithms and the dangers these biases pose to particular groups of people (e.g. women and darker-skinned people)? Join us in this three-part Algorithmic Bias event to delve deeper into this issue. First watch a free screening of "Coded Bias", then join a live Q&A session with the film's director Shalini Kantayya. Finally, attend a panel discussion with experts Marc-Antoine Dilhac (Canada Research Chair in Public Ethics and Political Theory), Aline Talhouk (Assistant Professor, Obstetrics & Gynecology, UBC), Mijung Park (Canada CIFAR AI Chair), and Blaise Agüera y Arcas (VP and Research Fellow, Google Research); moderated by Azim Shariff (Associate Professor and Research Chair, Psychology, UBC).