General Event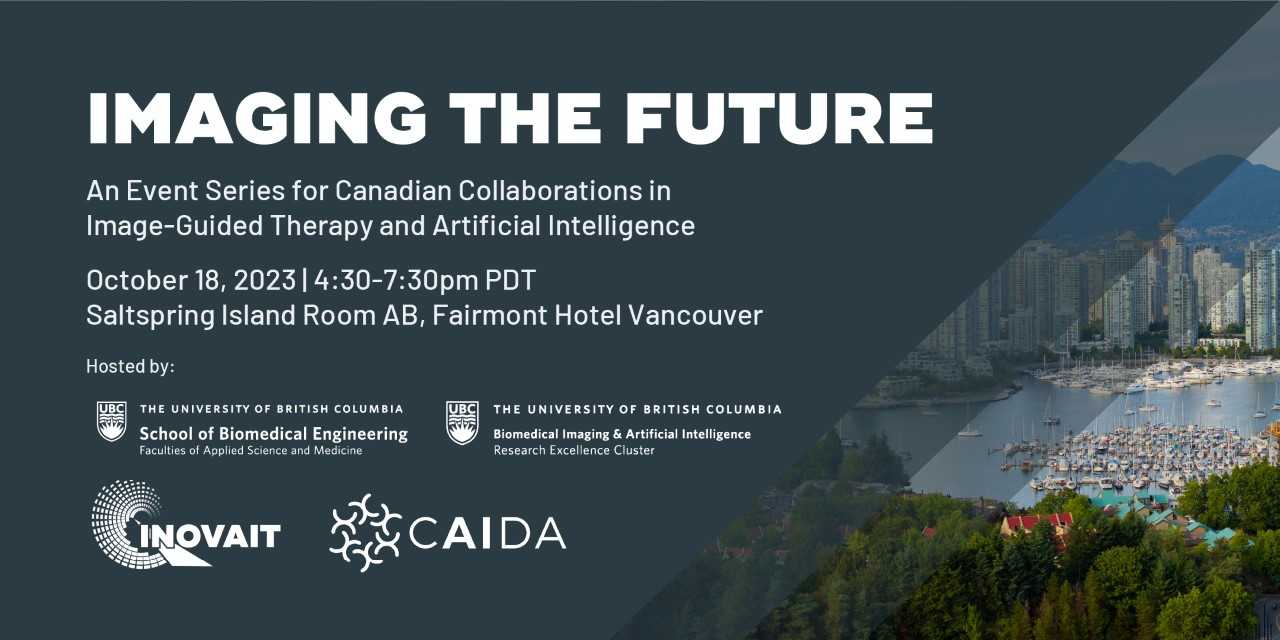 DATE:

Wed, October 18, 2023 - 4:30 pm
LOCATION:

Fairmont Hotel (Saltspring Island Room AB) - 900 West Georgia Street, Vancouver
DETAILS
INOVAIT, UBC School of Biomedical Engineering, UBC Biomedical Imaging and AI Cluster, and CAIDA: UBC ICICS Centre for Artificial Intelligence Decision-making and Action invites clinicians, researchers, students, engineers, innovators, and industry professionals to join us for an insightful evening of exploration at our exclusive panel and networking event in Vancouver as part of the INOVAIT Imaging the Future event series.
Event Highlights:
Panel Discussion: Engage in a thought-provoking panel discussion featuring industry and academic leaders. This event offers a unique opportunity to delve into the forefront of cutting-edge technologies, research breakthroughs, and industry-academia partnerships in medical imaging and AI.
Talent Connection: Connect with top researchers, industry leaders, and potential hires during the networking session. Attendees will build meaningful connections, and develop a strong research and commercialization network within the Canadian image-guided therapy (IGT) sector.
Interactive Networking: Engage in meaningful discussions and connect with professionals from various disciplines. This interactive session offers a unique platform to exchange ideas, explore collaborations, and expand your professional network with experts and thought leaders.
Event Agenda:
4:30 pm – Doors Open
4:45 pm – INOVAIT Welcoming Remarks and Funding Opportunity Announcement
5:00 pm – Panel Session
6:00 pm – Networking
Connect with IGT industry professionals, entrepreneurs, leaders, recent graduates, and students.
Discover non-dilutive funding opportunities for start-ups, SMEs, and academics in the field of IGT.
Promote and share expertise in medical imaging, IGT, and AI.
7:30 pm – Guest Departure
----
Imaging the Future is a series of meetings and mixers taking place at different locations across Canada. The purpose of Imaging the Future is to strengthen the Canadian IGT sector by giving researchers and industry professionals the opportunity to network and share latest research and cutting-edge technology advancements with other innovation stakeholders.